Tuesday's

 Senate Education Committee Informational Hearing on ESA bill SB 437, The Educational Opportunity Act: The Power of Choice, was a rousing success.
We want to thank those who came to Salem to sit in the audience with your Yellow School Choice Scarves, and those who submitted written testimony to the Committee.
Proponents Steve Buckstein, Eric Fruits and Bobbie Jager gave testimony first, followed by three opponents representing Oregon's largest teachers union, the Oregon School Boards Association and the League of Women Voters.  You can watch the entire one hour and 17-minute hearing online here, and see all the pro and con written testimony here.
Here are some photos from the event: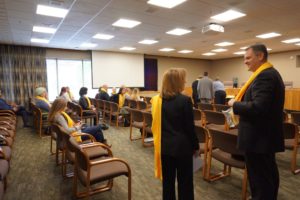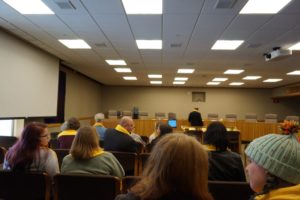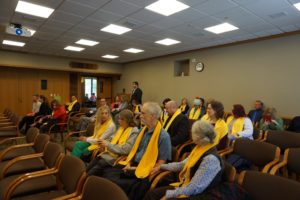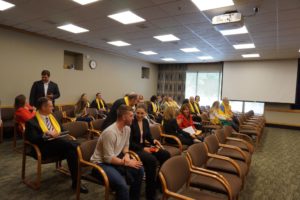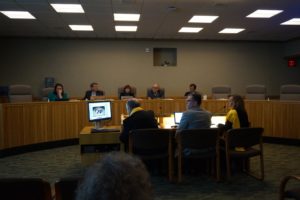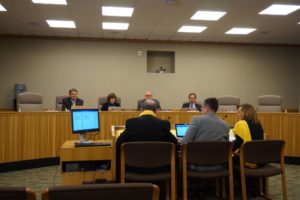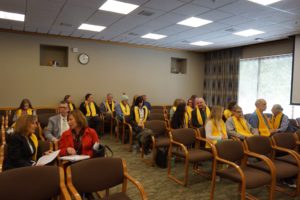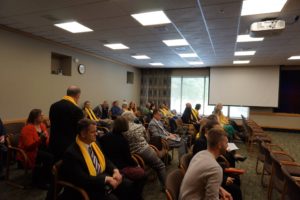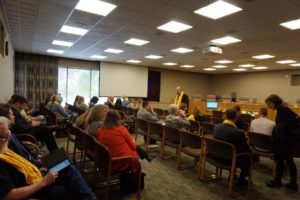 In the near future we will focus on specific testimony and videos we used at the hearing, but for now, we just wanted to say thank you for your support. Countless Oregon families and school children appreciate it.

Bummed you can't make it to Salem to watch the informational hearing on SB 437, our Education Savings Account (ESA) bill, at 3:00 pm on Tuesday, June 13th at the State Capitol in Salem? Don't fret; we've got a link for you to watch it live.
It's not too late to contact your own State Senator and Representative. You can find out who they are and their contact information at Who Represents Me in Oregon. 

SUBMITTING WRITTEN TESTIMONY:
Whether or not you can attend in person, we now have details for sending your written testimony which will be posted online prior to the June 13th hearing. View a sample here. 
Email written testimony to sed.exhibits@oregonlegislature.gov. It goes to staff of the Senate Education Committee (sed).
The subject line of your email should be: Testimony on SB 437 for posting on OLIS (OLIS stands for Oregon Legislative Information System)
The best way to send testimony is to attach a PDF file of your document to your email message. If you simply put your testimony in the body of the email or attach a Word-type document then the Committee staff will convert it into a PDF file before posting it online. You then run the risk that the conversion may not look exactly as you would like it to look. Check out these instructions on how to save a Word document as a PDF. 
Here is the list of Senators on the Education Committee including the Chair, Senator Arnie Roblan (D), who kindly scheduled this hearing for us. All these Committee members will automatically receive any written testimony you send to the Committee. If you see a member who is your own State Senator, you may want to contact that individual Senator directly or try to meet with them prior to the meeting.
We expect the hearing to begin promptly at 3 pm and last approximately 30 minutes. Only invited testimony will be heard live; the audience will be there for support but will not be asked to testify in person. 
When posted on OLIS, your written testimony will appear on the SB 437 page under Meeting Material/Exhibits link. It may be posted soon after you send it, or it may appear closer to the hearing date. Note that we are supporting the bill with the -1 Amendment which sets somewhat lower ESA account dollar amounts to ensure that the bill will be roughly "revenue neutral" so as not to reduce spending per pupil in the public school system. 
TIPS FROM THE LEGISLATIVE WEBSITE FOR TESTIFYING IN PERSON AND IN WRITING:
How to Testify before a Committee
 
OUR TIPS/SUGGESTIONS FOR WRITTEN TESTIMONY:
Start your testimony saying something like: "Chair Roblan and members of the Senate Education Committee, I urge you to support Education Savings Accounts for Oregon students such as those set out in SB 437 with the -1 Amendment." Don't ask them to "vote" for the bill because this is an informational hearing only.
Note where you live in Oregon and how you are a stakeholder in the education system (mom, dad, grandma, teacher, and/or taxpayer, etc.)
Talk about your own family's experiences with school choice or talk about how your family would benefit from more school choice in Oregon.
Talk about the benefits of Education Savings Accounts – NOT vouchers.
Be respectful. Don't attack legislators or school choice opponents.
Ask legislators to help all students access more school choices.
Understand that SB 437 will not pass into law this year, but you want it or something like it to pass as soon as possible for all families in Oregon, and for your family in particular if you have children in school now or who will be entering school soon.
INFORMATION ABOUT OUR EDUCATION SAVINGS ACCOUNT BILL AND ESAs IN GENERAL:
Feel free to share this information with others, and include the link to RSVP if they plan to attend in person. Let them know that children are welcome to come with their parents to learn how the legislative process works.
Finally, we request that anyone sending written testimony also send us a copy, or send us a draft first and we'll be happy to give you suggestions before you submit it. Send testimony to Steve Buckstein at [email protected].
If you need help drafting or submitting your written testimony, please call us at (503) 242-0900 or email Steve. 

Put testimony in your own words.
June 13, 2017
Dear Chairman Roblan and members of the Senate Education Committee:
My name is [Name] and I live in [City] and currently have [number of children] in the [City] Public School System. I am writing to support SB 437 and the -1 Amendment which would limit how much money goes into ESA accounts. This way, public schools should have the same or more money for each student remaining in their classrooms even as some students leave to find better educational opportunities.
[Insert personal reason you want children to access more school choice in Oregon.] Example: While my daughter is doing fine in her public grade school, my sons in middle and high schools are struggling. They both need different educational options than the school system is offering.
[Insert personal reason you support ESAs.] Example: Education Savings Accounts sound like the best opportunity for my sons, and many children, to find better learning environments than they are in now. My boys may need tutors or online courses that can help them where they are struggling. I understand that they could use part or all of an ESA account each year for a mix of such services, and if money is left over then we can roll it over into future grades. I especially like the opportunity they would have to use the remaining funds after graduating from high school to attend community college or an Oregon university.
[Insert *polite* personal reason you disagree with school choice opponents.] Example: I disagree with those who say that the legislature should only spend education money in our public school system. To me, if we are going to use taxpayer money to help educate Oregon students, then the money should be available for students to use wherever it can benefit them the most, whether public school, private, tutors, homeschooling – wherever they can learn the best.
Please learn more about the benefits that an ESA program like that offered in SB 437 could mean for my children and many Oregon students. Thank you for listening.
Respectfully,
[Name]
[Address 1]
[Address 2]
[City, State Zip]
[Phone number]
[Email]
(Address, phone and email details optional)